I saw this film as part of TCM's Noir Alley line-up. Movie critics have pegged it as a slight twist on the Double Indemnity concept—the twist being that it's the man who's the seducer. However, ironically, Eddie Muller offered it as a Mother's Day movie. There's a reason for this I'll discuss later.
The story is not only a film noir, but a thriller. The movie is about Webb Garwood, a cop who hates his job (played creepily by Van Heflin). Garwood and his partner are called to investigate a peeping Tom spying on suburban housewife Susan Gilvray (played by John Huston's ex-wife Evelyn Keyes). Garwood is smitten with Susan on first sight.
This leads Garwood to keep hanging around the Gilvray household, because Susan spends her nights alone while her (incredibly possessive, for a guy who's never home) husband works as an overnight radio deejay. In fact, the film's title could easily refer as much to Garwood as to the voyeur who brought Garwood and Susan together. In any case, while snooping around the house during one nighttime visit, Garwood finds out the husband has a life insurance policy. That gives him even more reasons to hang around.
So Garwood comes on to Susan in a big way, and even though she rebuffs him and throws him out, apparently Van Heflin is so charming (and her husband is so absent) that Susan eventually does the nasty bumps uglies has an affair with him.
Eventually, this all leads to Garwood taking steps to whack terminate with extreme prejudice kill Mr. Gilvray. Garwood does so in a manner that gives yet another level of meaning to the movie's title.
Saying more about the plot would risk revealing spoilers, but I will say that the acting in the film is top-notch. The concepts were tres risque for their time. The script is full of the requisite level of tension, which ratchets up considerably toward the end. The only thing is that Garwood's ultimate fate seems a tad rushed, when one considers that he's essentially sentenced to death without the benefit of a trial. As if the screenwriter thought, "I need to wrap things up quickly." Then again maybe the ending makes sense, from the point of view of the blacklisted writer, Dalton Trumbo, who actually created the screenplay.
And why is this a Mother's Day movie? Eddie Muller suggested that, for Susan's sins, she was forced to give birth. And, I might add, in the middle of nowhere. So, you can add this to your Mother's Day film noir collection, along with Mildred Pierce, which I've also reviewed.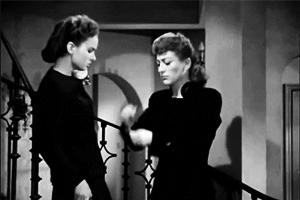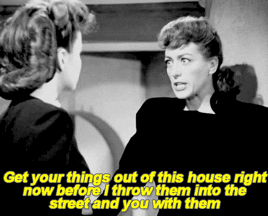 Judged in the context of its time, this film was hot stuff and ground-breaking. But, I simply can't overlook to way the ending seemed to skim right past murder suspect to convicted killer. So, I'll give a solid thumbs up and recommend it for your viewing.